2019 Classes
 September – December
French Braid Runner
with Julie
This runner is such a versatile pattern and technique that you can make a runner for every season! Choose Christmas or Spring, elegant or country – it's up to you. We will make a kit to suit your colour palette! Julie will lead you through this project and students should get up to the quilting stage, with instructions on how to complete the project.
Friday 11th October, 2019
Time: 9.30 – 4pm
Cost: $45 (+ $45 customised kit, charged at time of class)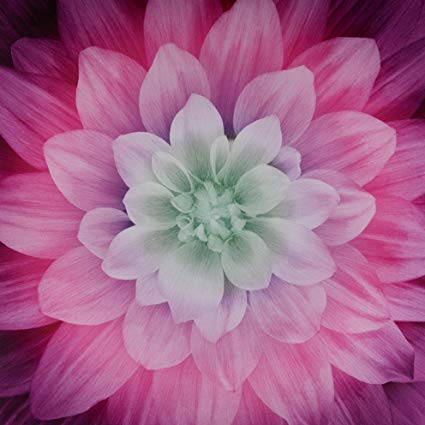 Dream Big Quilting
with Debbie
What better way to enjoy Free Motion Quilting than to quilt a spectacular panel like the Dream Big Dahlia. This is a NEW class and is already proving extremely popular. If you would like to develop your free motion skills and design sets further then this is the class for you!
Note: Only 3 colourways now available – limited stock of each one: Leaf, Onyx & Magenta
Time: 9.30 – 3.30pm | Cost: $80 (includes panel)
Saturday 12th October, 2019
OR
Saturday 23rd November, 2019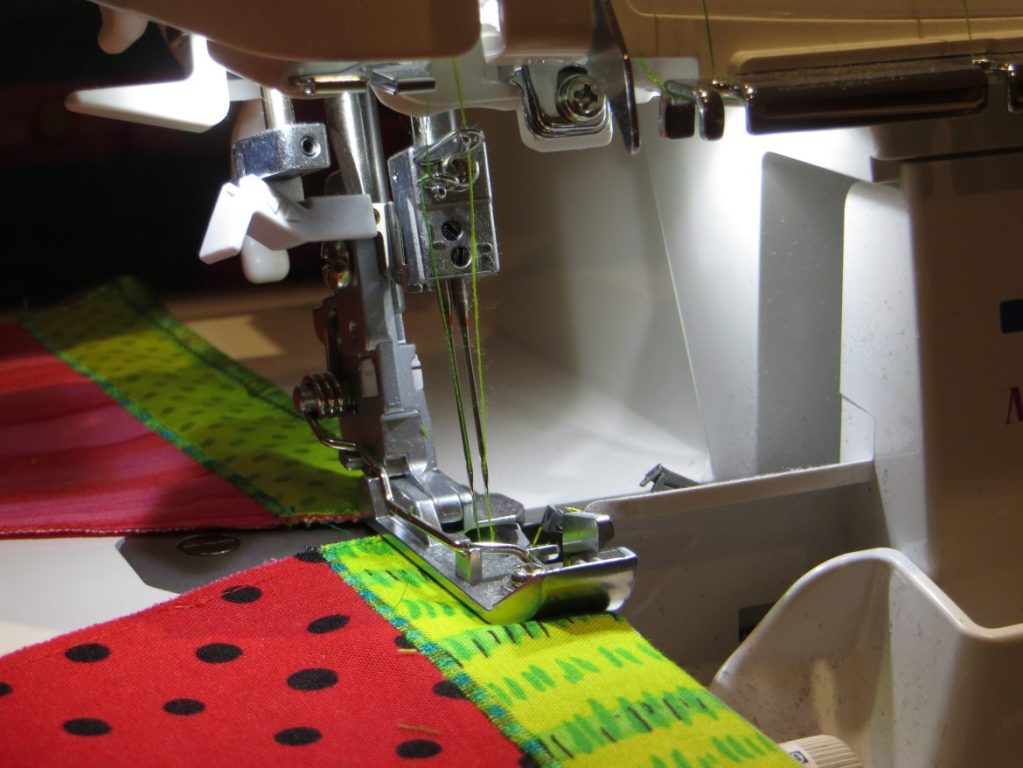 Overlocker Club
with Debbie
If you have an overlocker and are a confident beginner (or someone who has done our Overlocker Demystified Course) and you want to expand your overlocking skill set, then this club is for you! To join this club it is advisable that you know how to use your overlocker and are confident in sewing on it.
Tuesdays: 17th Sep | 15th Oct | 19th Nov | 17th Dec
Time: 9.30am – 12.30pm
Cost: $100 per 4-week course (3 hours per session)
Weekly technique kits are not included in price. Once booking is confirmed you will be contacted to ask for your preferred colours/fabrics for your kit.
UFO Finishing Day
with Debbie
We've all probably got a stash of UFO's that need finishing. This is the perfect class to get started on them Debbie will be on hand during this class to help you finish some of your more challenging UFO's! Bring them along and turn your UFO into a treasure that can finally enjoy
Saturday 19th October, 2019
Time: 9.30 – 3.30pm
Cost: $45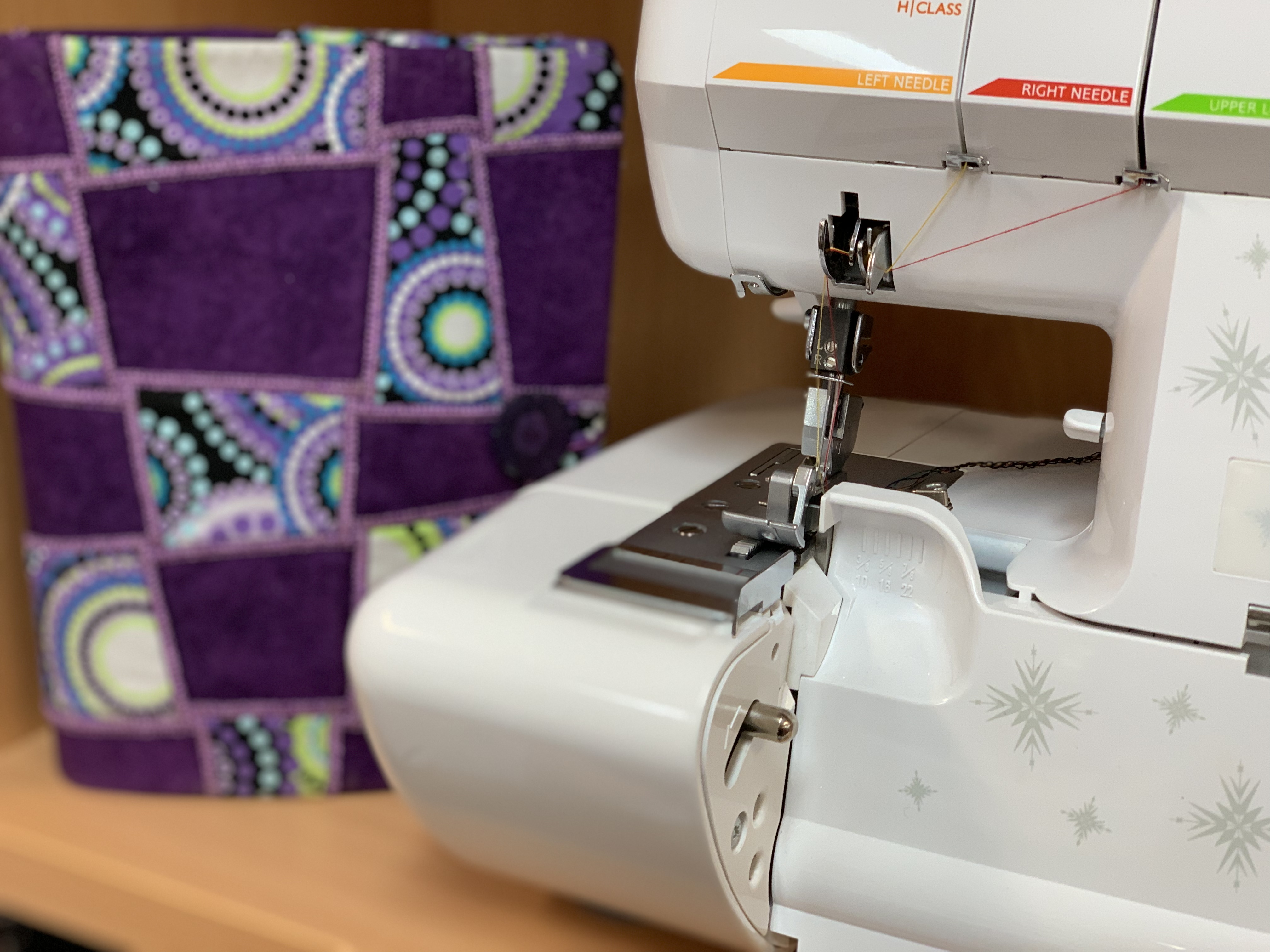 Overlocker Demystified
with Debbie
Does your overlocker Baffle you? Would you like to get more out of your machine and become confident in doing rolled hems, overlocking and more detailed techniques? Then this 3-part course is for you. Debbie will demystify your overlocker machine so you can be the overlocking queen!
Fridays: 1st Nov & 13th Dec
Time: 9.30 – 1.30pm
Cost: $105 – 3 week course + kits (kits approx $25 per class)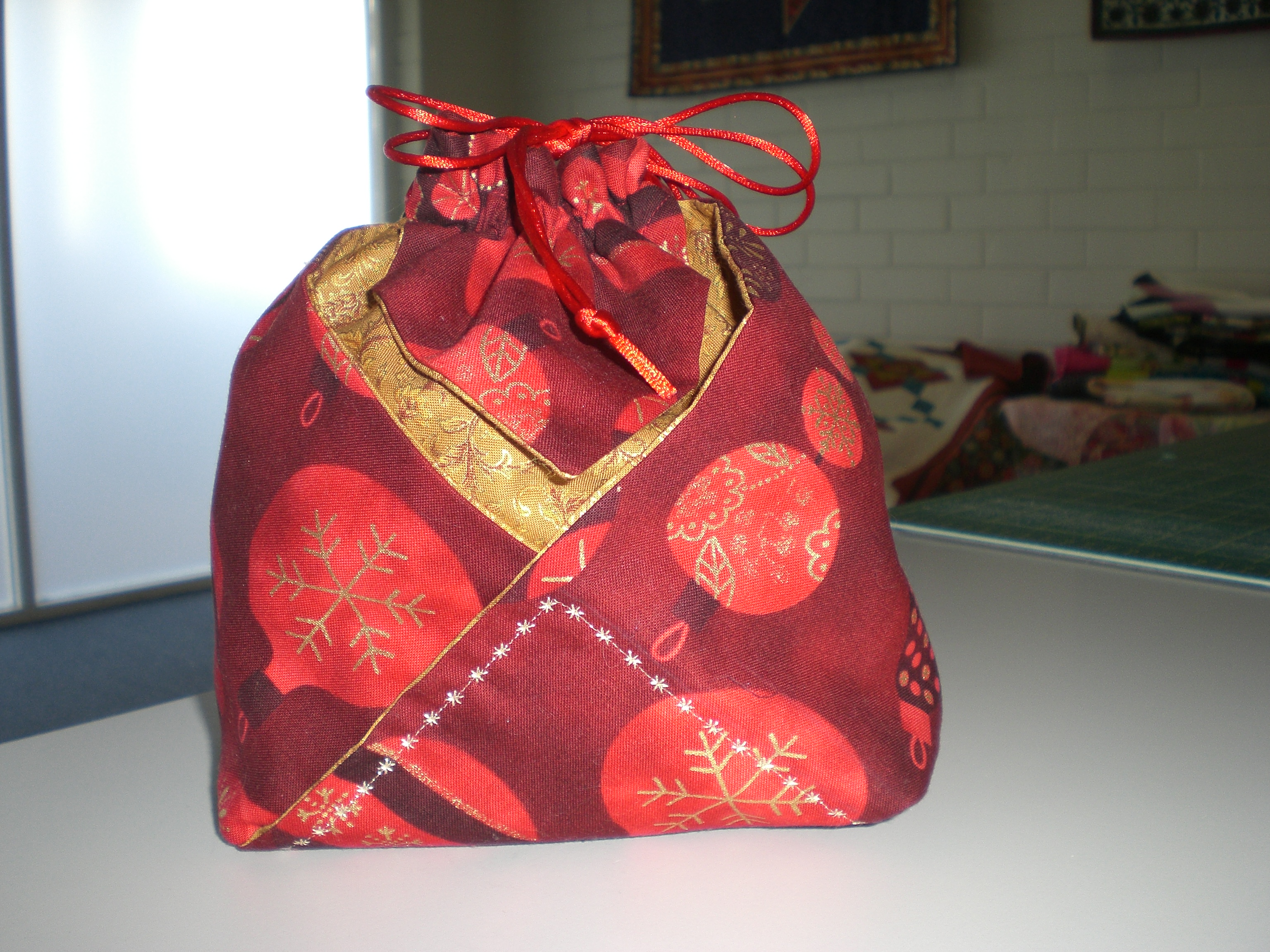 Origami Gift Bag
with Julie
With Christmas just around the corner, this little bag will make the perfect gift! Quick, easy and fun to make you will be churning these out for your friends and family this year!
Saturday 2nd November, 2019
Time: 9.30am – 12.30pm
Cost: $45 (inc kit)
Quilt-As-You-Go
with Debbie
Learn several quilt-as-you-go techniques withe Debbie in this class as she leads you through making a table runner project. This piecing and quilting method is a great way to make quick and easy projects or gifts and is an invaluable technique to have under your belt.
Tuesday 5th November, 2019
Time: 9.30am – 4pm
Cost: $45 + Kit
(total kit cost approx $77.00 depending on your preferred colourway and fabric choices)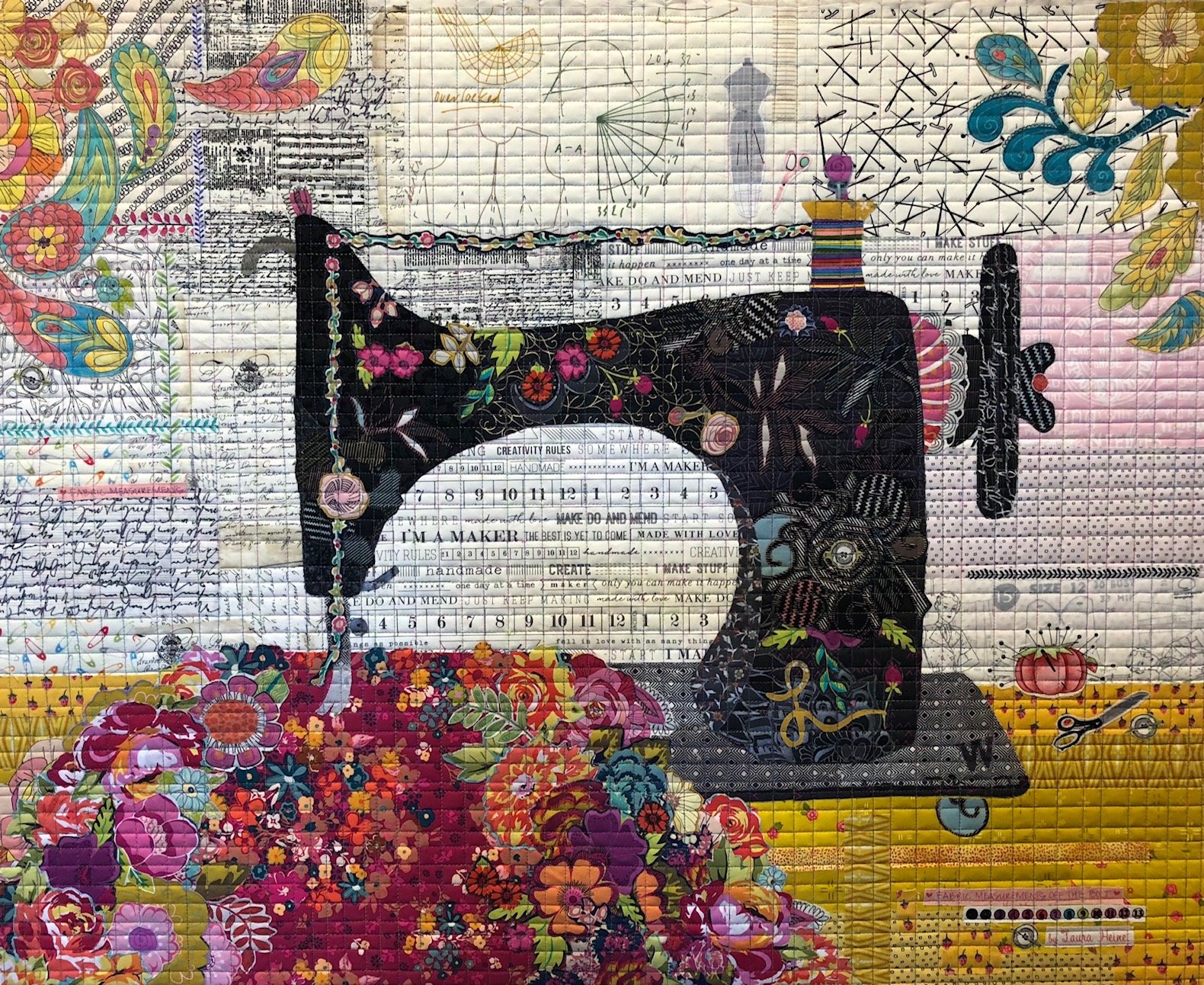 Fabric Collage
with Michelle
What a perfect Spring project to make, ready to hang in your sewing room! Michelle will lead you through the collage process over this 2-day class. Students should reach the quilting stage, with instruction on how to complete the project. Patterns and Basic Kit will be supplied and pricing TBA. Students will bring some fabrics from home their stash. Full kit can be supplied on request.
Time: 9.30 – 3.00pm DAILY
Cost: 2-day Class $90 + fabric kit & pattern $110
Dates: 16th & 17th November, 2019
Xmas Wreath Table Centre
with Julie
This is such a fun project to make and especially for Christmas to add some festivity to your dining room! Easy and fun to make and you can even use your Accuquilt Cutter is you have one (or borrow ours for a small fee)! Great project for quick and easy gifts.
Friday 22nd November, 2019
Time: 9.30am-2.30pm
Cost: $65 includes class & kit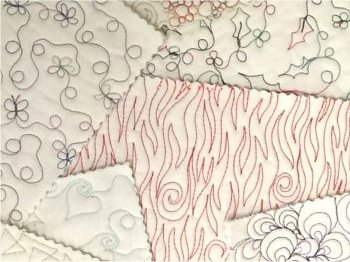 Free Motion Quilting – Beginners
with Debbie
If you would like to become more confident at free motion quilting and learn how to move the fabric under your machine to create simple and easy quilting designs, then this is the class for you. Debbie will walk you through Free Motion techniques and teach you how to be in tune with your machine as learn new quilting skills.
Friday 8th November, 2019
Time: 9.30am -2.30pm
Cost: $65.00 includes kit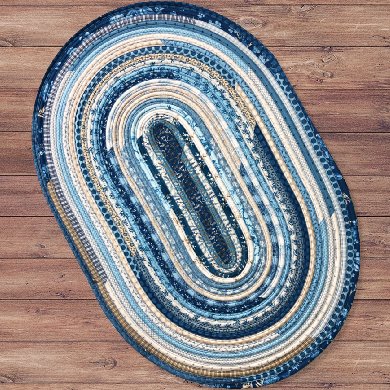 Jelly Roll Rug
with Debbie
Got a Jelly Roll or two that need using? Or need to use up some fabric scraps? You can use our AccuQuilt strip cutters to make quick work of creating your own Jelly Roll to make this cool Jelly Roll Rug! Plus we have a very nifty tool that make the job so much easier! These rugs are so much fun to make that you won't be able to stop at one! With Christmas around the corner, these rug will make fabulous gifts!
Taking Expression of Interest for 2020
Sampler Quilt
with Julie
This class is open to Beginners as well as anyone who already has patchwork skills. Everyone should make a sampler at least once! This lovely Beginner's Sampler will help you learn traditional piecing, by making blocks with easy to moderate difficulty, as well as applique  and foundation piecing. Discuss planning, cutting, selecting fabric and tips and tricks to getting your blocks fitting together well.
Course Outline: 5 hour classes x 5 weeks
Course fee $175.00.
Kit Cost: approx $170.00 (quilt top only)
RESCHEDULED – EARLY 2020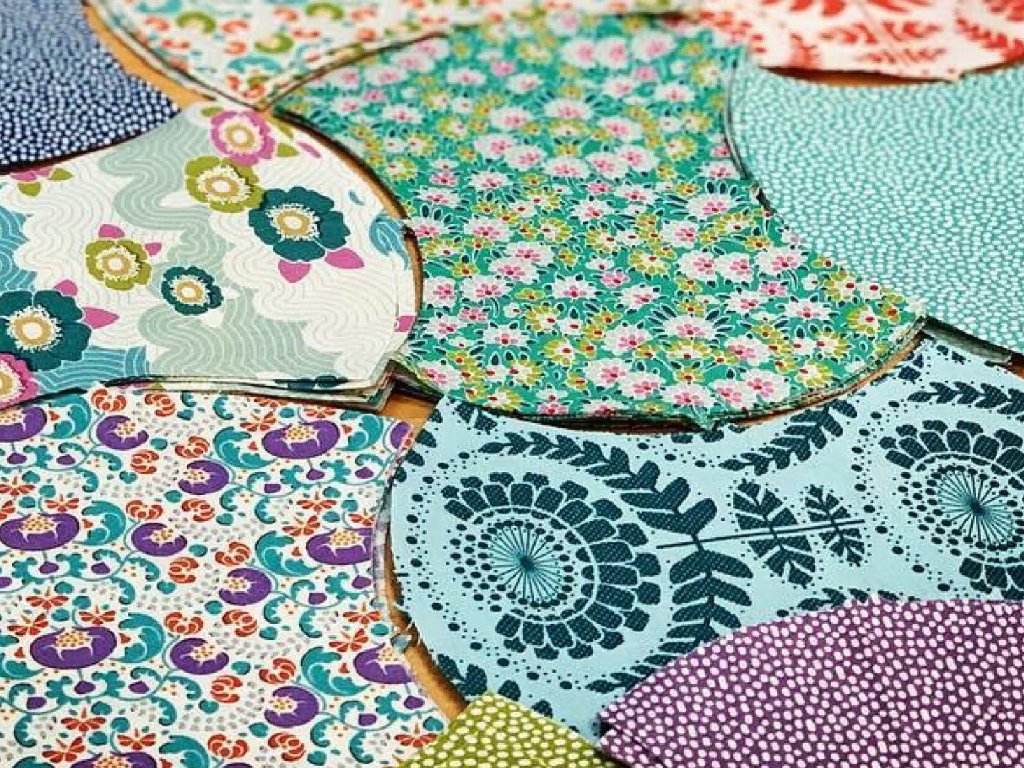 Curved Piecing with Confidence
with Michelle
Sewing curves is notoriously perceived as difficult, but not in this class! Firstly we will use AccuQuilt to cut your Clam Shell shapes in a pre-prepared kit (colour of your choice), then Michelle will show you the easy way to sew curves and you make the runner project, and you can even try sewing them without pins!! If you would like to try your hand at making a small runner project and learn to sew curves confidently the this is the class for you.
Taking Expression of Interest for 2020
EMAIL EXPRESSION OF INTEREST
Borders and Binding Class
with Debbie
In this class you will learn SO much about attaching borders, different styles of borders as well as how to correctly attach quilt binding and also experimenting with different binding techniques. If Borders and Binding are a tricky things for you, then you won't want to miss this class!
Taking Expression of Interest for 2020
EMAIL EXPRESSION OF INTEREST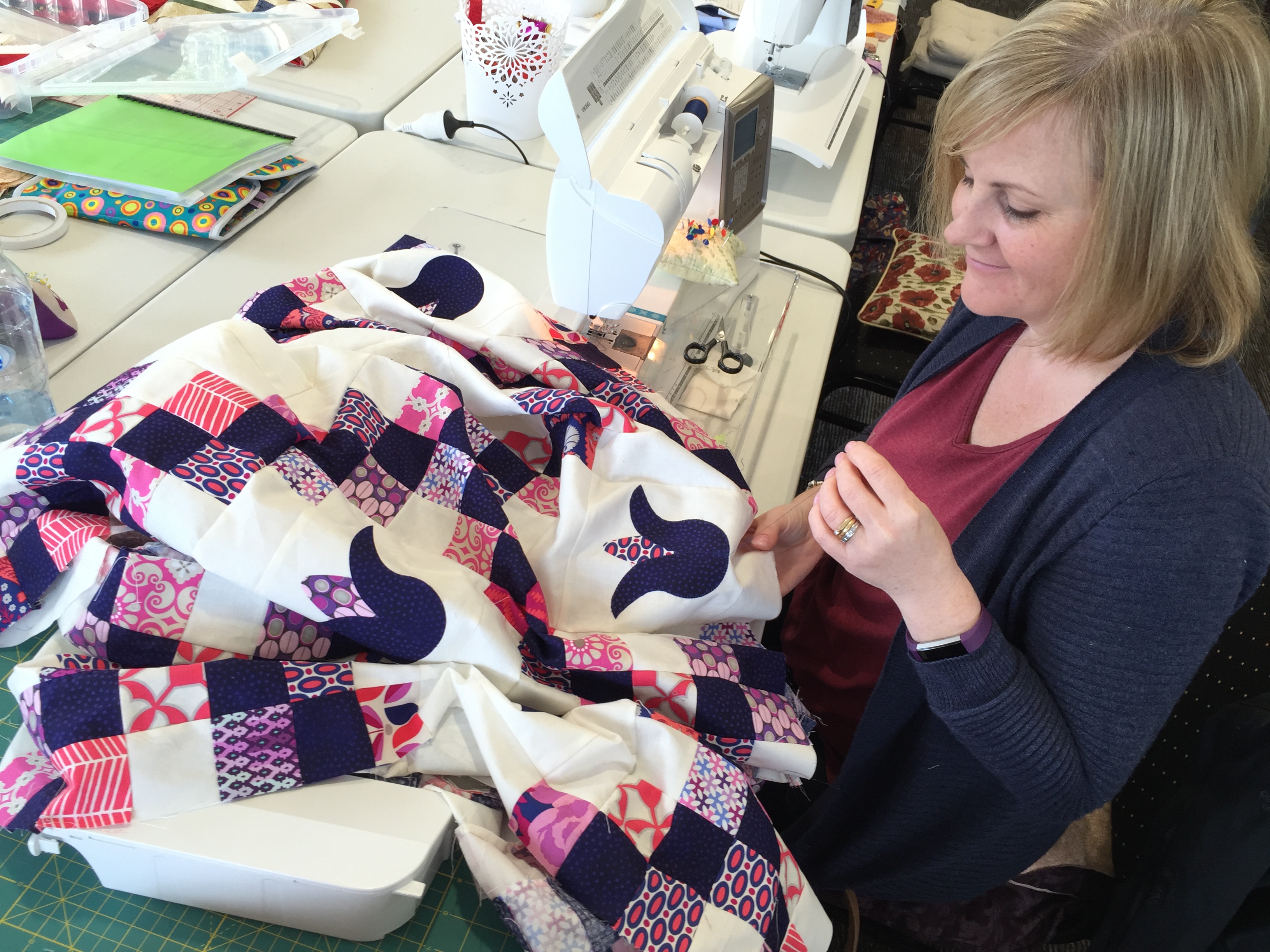 Open Patchwork
with Debbie
These sessions are open to Beginners as well as anyone who already has patchwork skills. These classes are not only an opportunity to learn but also to meet like-minded people and take advantage of a weekly sewing session to achieve your patchwork & quilting projects. Bookings essential
Thursdays:
Mornings: 9.30 – 12.30pm
Cost: $25 p/session
Social Sewing Days
OPEN CLASS
If you would like to join a social sewing group and dedicating sewing time every week, then these sessions are for you. We have Monday, Wednesday and Friday groups that meet each week. 
Time: 9.30am – 4pm
Cost: $15 p/session
Spellbinders EPP Club
OPEN CLASS
Whether you wish to start a new EPP project or continue with something you have already started, our club is open to anyone who would like to join to do English Paper Piecing (EPP). The more the merrier!
Fridays: 18 Oct | 15 Nov | 20 Dec
Time: 9.30am – 12.30pm
Cost: $10 p/session
Machine Embroidery – Tuesdays
with Sandi
Get together with Sandi & Jo twice a month and broaden your machine embroidery skills. Sandi will bring you new and exciting projects. Loads of fun and learning in these sessions.
Tuesdays : 8 Oct | 22 Oct | 5 Nov | 19 Nov | 3 Dec | 17 Dec
10 am – 1.00pm
Cost: $25 p/session
Machine Embroidery – Saturdays
with Jo
Jo will be running her classes to bring you new and exciting projects from Sweet Pea, Hoop Sisters and Urban Threads as well as supporting the Infinity Quilt BOM program we started in February. Great projects and great fun – all year!
Saturdays : 19 Oct | 2 Nov | 14 Dec
Morning Session: 8.45am – 12.00pm
Afternoon Session: 12.30pm – 3.15pm
Cost: $25 p/session
Embroidery Software & Top-of-the-Line Club (TOLC)
with Greg
These classes with Greg are fast gaining notoriety and popularity offering a high level of education for this software. Open to owners of Premier+ Versions and all modules (except base).
We have combined this class to accommodate Husqvarna Viking EPIC and Pfaff Icon machines into one Top-of-the-Line Club which will meet after software classes once a month. If you own either
of these machines you are welcome to join us.
Tuesdays : 29 Oct | 26 Nov | 10 Dec
Morning Software Session: 9.30 – 12.30pm Cost $25 per/session| Afternoon TOLC Session: 1.30pm – 3.30pm Cost: $15 +kit p/session
Software Wednesday Nights Only – Cost $25 p/session : 30 Oct | 27 Nov | 11 Dec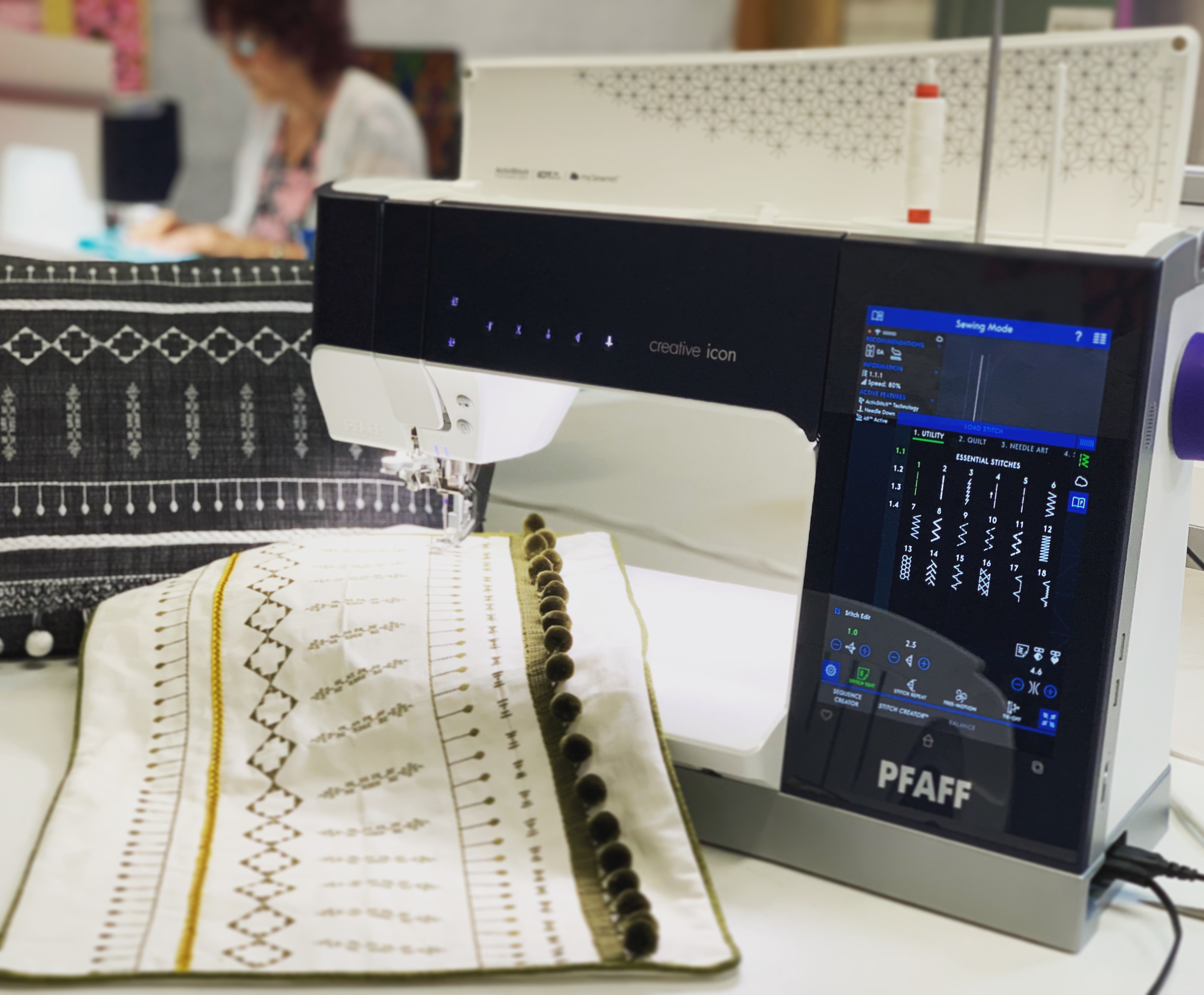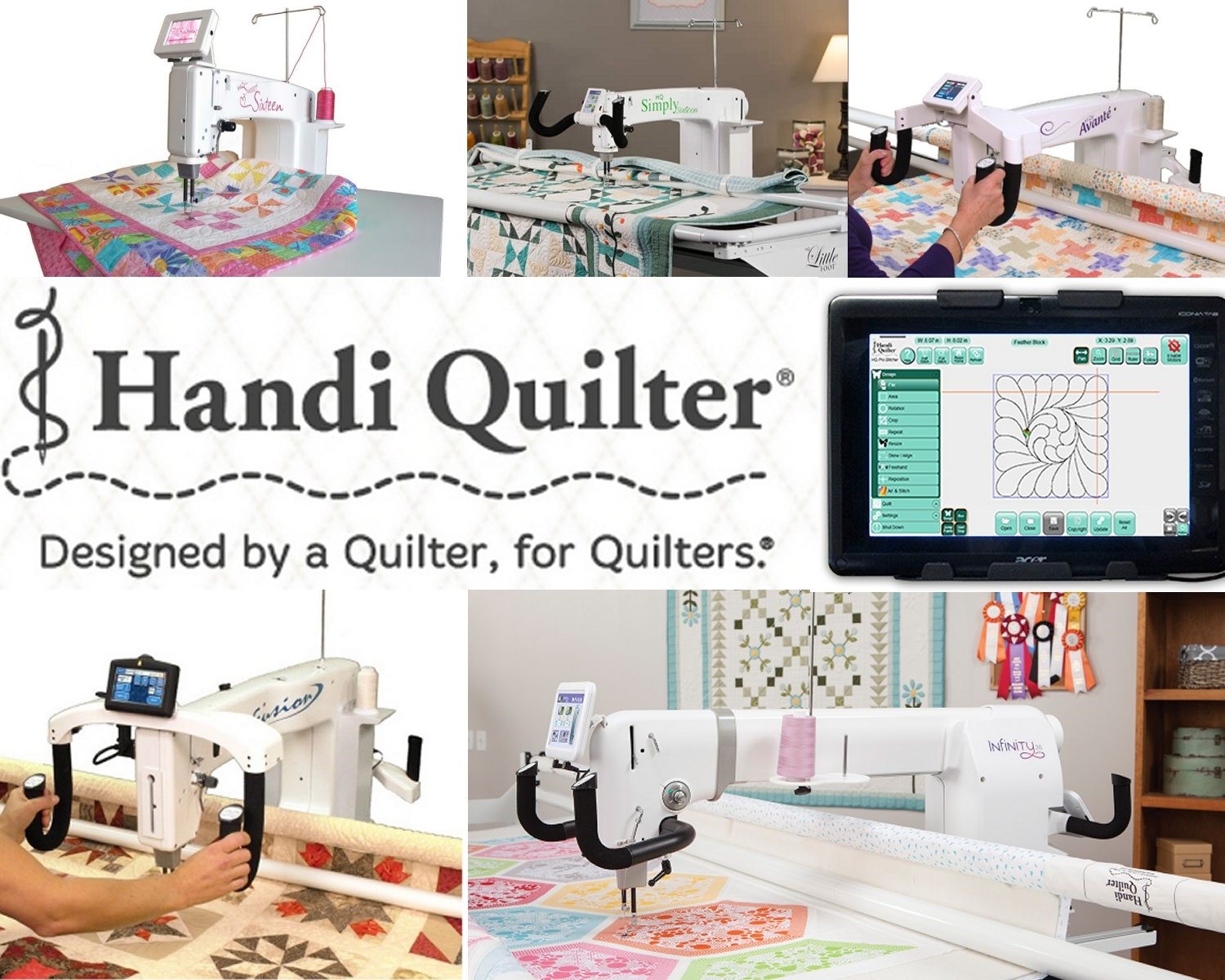 Handi Quilter Club
with Michelle & Team
This is an exclusive club held in store every other month. Members consist of owners who have purchased their machines through our store. It is this club that is most coveted by new owners as the back up support, education and inspiration are second to none and club members always leave having learned something throughout the morning session and have been inspired and motivated. The Club supports all facets of the Handi Quilter range. 
Bookings Essential! 
Saturday: 26 Oct | 30 Nov
Time: 9.30 – 12.30pm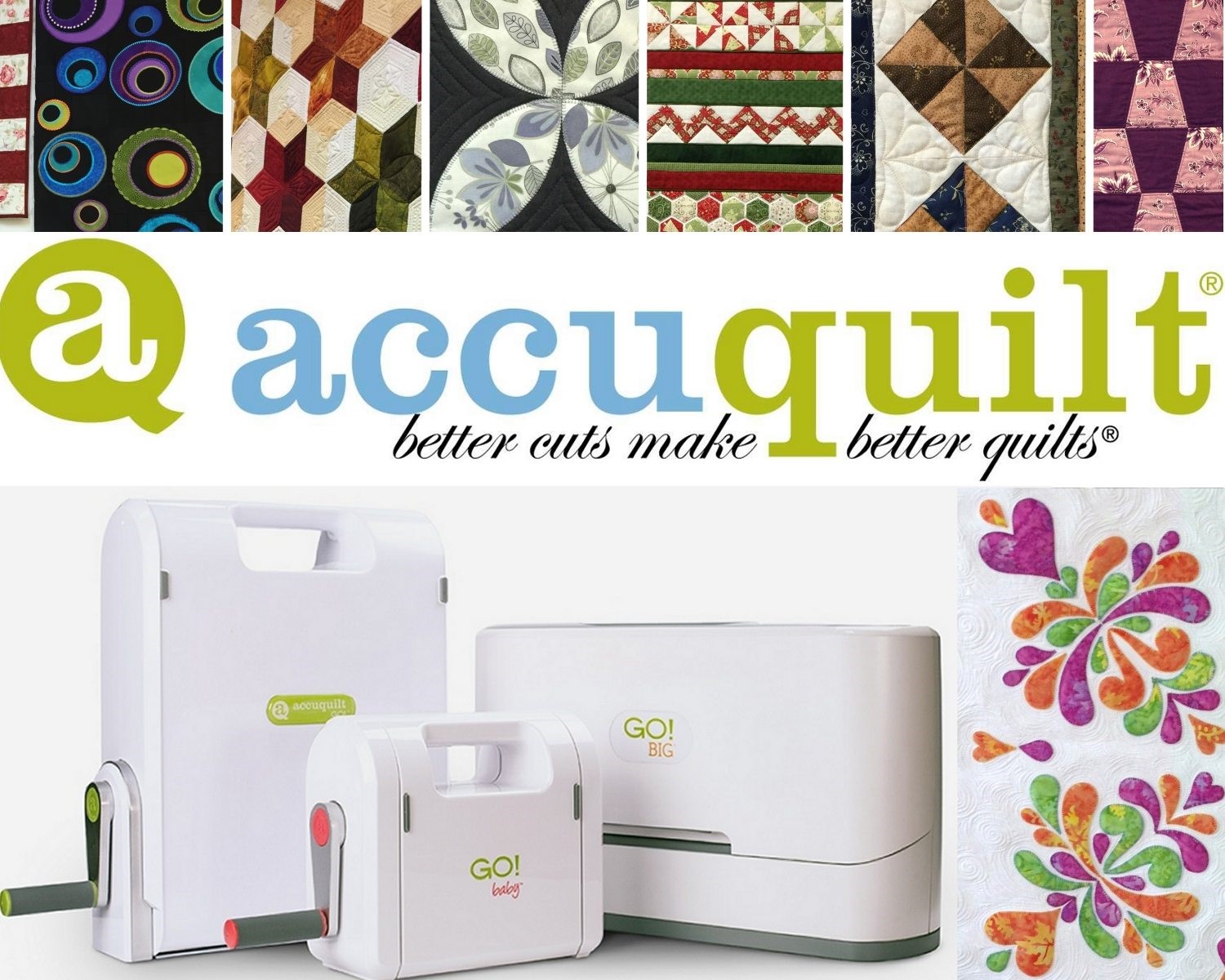 AccuQuilt Club
with Michelle & Team
Come one! Come all! AccuQuilt Club day is open to ALL owners of the AccuQuilt products. The aim of this club is to educate and inspire as many people as we can on how wonderful this product really is! Each club day we will demonstrate different projects and techniques and back that up with free pattern hand outs! A good day to shop in store as we usually offer a discount to club attendees! Join us for these mornings of inspiration, motivation and plenty of laughs as well as lots of education!
Bookings Essential!
Saturdays: 9 Nov
Time: 9.30 – 11.30pm
Cost: $10