To conserve fabric, cover the only shape you want to cut — not the entire board. For asymmetrical shapes, place fabric pattern side up if you want the shape to look exactly like the shape on the die. Place fabric side down if you want the shape to be a mirror image of the shape on the die.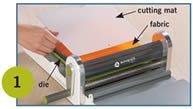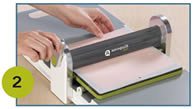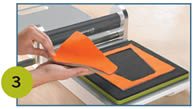 OVERVIEW
90% faster than rotary cutters or scissors
Accurate cuts every time. Safe, easy-to-use design. Cuts up to 6 layers of 100% cotton fabric at a time. Unlimited design options with wide selection of GO! dies. Portable and easy to store (only 6.8kg/15 lbs.). Double roller design provides clean cuts and the rubber feet grip and hold cutter in place while cutting. Easy-lift carrying handle make is easy to take to classes, guild meetings, retreats and quilting bees. Comfortable roller handle grip is easy and safe. The design is innovative and easy to clean with a high gloss exterior surface and a neutral, light-colored work surface.
What's in the Box
GO! Fabric Cutter  |  Exclusive GO! Value Die (55018) featuring: Square-4 1/2″ (4″ finished), Square-2 1/2″ (2″ finished), Half Square-2″ finished triangle (cuts two)  |  GO! Cutting Mat-6″ x 12″  |  20- page Pattern Book: GO! Mix & Match Quilt Blocks  |  Die Pick  |  Product Registration Card  |  Quick Start Guide
Care & Maintenance
For best results, always keep your GO! Fabric cutter clean and lint free. To clean the fabric cutter inside and out, use a soft dry cloth. Avoid abrasives, solvents and spray cleaners. If necessary, wipe with a damp cloth, then polish with a dry cloth. Use canned air to clear lint from roller area. The GO! Baby fabric cutter does not have replacement parts.
Specifications
Closed Dimensions: 17″W x 5″L x 15″H (43.2 cm x 12.7 cm x 38.1 cm) includes handle  |  Open Dimensions: 30 1/2″W x 17″L x 6 1/4″H (77.5 cm x 43.2 cm x 15.9 cm) includes handle  |  Item Weight: 15 lbs. (6.8 kg)  |  Boxed Weight: 20 lbs. (9.1 kg)
Warranty
Limited One-Year Warranty